This is the main page of the members area containing access to your downloads & other resources…
NOTE: Unless otherwise stated, the documents contained within the members area are PDF documents and require the Adobe Reader to view them (on PC and/or MAC). Chances are you already have this installed on your computer but if not you can download it here now. It's free ;-0
Listed below are the various content sections you have access to as a valued customer including the exclusive manual you've purchased. You might want to create a folder on your computer called "Worm Farming Secrets" to store all downloads in locally for easy access when you're offline…
The Business & Biology Of Raising Composting Worms
This is the "Worm Farming Secrets" exclusive manual for our valued members. Please be sure to provide feedback once you've had a good read. We hope to expand it overtime based on your feedback and a lot of work has already gone into it, so your feedback is much appreciated...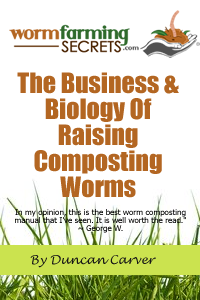 Additional Resources You Might Also Enjoy…
If you really want to supercharge your worm composting operation, now you can see exactly how the professionals do it, learn their methods & mimic their successes. Check It Out Here.
Whether you're a complete beginner and don't know where to start, or you're a seasoned chicken keeping professional and just want practical "how to" advice on tap, here's everything you need to know about keeping chickens in your own backyard. Check It Out Here.

---
Learn how to grow 10 times the amount of vegies in the same space you would use in a regular garden plus eliminate all weeding and soil work. Works great along side worm composting. Check Out The Video Here.
Learn how to grow organic food with less than 8 hours work a year. This is a breakthrough method to counter food security, rising costs & to just generally grow healthier vegies. Check It Out Here.

---
If you're interested in growing your own mushrooms, here's a whole bunch of different techniques with easy step by step videos. Check It Out Here.
This guy has been "off the grid" for more than 4 years now. Learn how to reduce your energy bills & get started with solar power. Check It Out Here.
If you need to get in touch with us for any reason you can get us at the email below.
Happy worm composting…
Duncan Carver